A little bit about how Olive Branch began…
Olive Branch Counseling Associates first opened our doors in October 1996. It was pretty small compared to what it is today. Three of us started Olive Branch in a 600 square foot "fixer-upper" office on Cicero Avenue in Oak Forest, Illinois. We had all been in the field for different lengths of time with many referral sources and soon our caseloads were full. We also experienced something we hadn't really expected. Many of our colleagues from other organizations were asking if they could join us at Olive Branch. So we began to grow, picking and choosing a wide variety of clinical staff to join us and fill us out to enable us to offer so many services with high levels of expertise! Even though our staff has grown and our current space is quite a bit larger than our original office, we have not lost track of what we believe is important. It has always been our goal to help our clients feel at ease. When you walk into our office, you will find a cozy environment that is welcoming and relaxing. There is always candy in the dove shaped candy dish and a puzzle on the table in the waiting room for you to work on if you choose. If you visit us in the cold weather months, there is a good chance there will be some hot apple cider to sip. This extra attention to detail exemplifies the way you will be received by each and every therapist on our staff.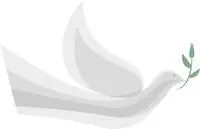 Our name and our symbol of the dove with the olive branch reflect the hope and optimism we bring our clients in times of need. Similarly, the dove with the olive branch brought hope and optimism to Noah and his family after they had been on the ark during the flood. They had been confined on the ark for a long time, waiting for the floodwaters to recede. They began sending out a dove to see if it would return with evidence of dry land. After many attempts, the dove returned with a branch of an olive tree-proof they would soon be able to exit the ark and begin life again! We offer the opportunity and assistance for our clients to begin life again, with new insights and skills to aid in their success, happiness and fulfillment.